OSCD names Blake Peart as new CEO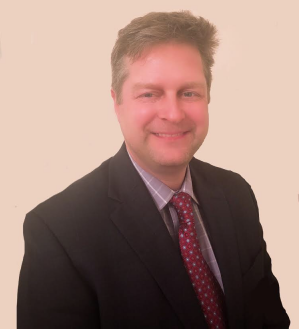 After an extensive search, OSCD has named John "Blake" Peart, formerly of Kindred Healthcare in Mansfield, Texas, as its new Chief Executive Officer. In January, Blake accepted the position left vacant by Andrew "Andy" Summers, who died unexpectedly in May.
The months-long interview process did not deter Blake, who said the thorough search reassured him that finding "the right fit" was as important to OSCD as it was to him, especially under the circumstances.
"Not long after I accepted the position, I read through Andy's memorial," Blake said. "I could tell his loss was deeply felt, so first and foremost, I want to I extend my condolences to everyone at OSCD."
Blake's first day in the office was Tuesday, February 5. He said it has been a busy transition, and he looks forward to working with and getting to know the OSCD team and staff.
Blake has 18 years in senior management experience in healthcare. Most recently as CEO of Kindred Healthcare, he was recognized for "Best Hospital" for Employee Retention and Employee Satisfaction in 2018 from the Organization of LTACH Hospitals. Under his leadership Kindred Healthcare was awarded the 5K Hospital Quality Award for 2017 and 2018.
"As a new member of our team, Blake brings a wealth of knowledge from his experiences in hospital administration, business development, academic administration and as a respiratory therapist," said Tim Szott, Vice President of Operations for Surgical Care Affiliates. "Blake is a valuable addition to our leadership team and I look forward to his future successes with OSCD."

In addition to the quality accolades received at Kindred Healthcare, Blake increased physician recruitment by 27% over an 18 month period and increased the total number of procedures performed at the facility by approximately 32%.
Blake began his healthcare career in 2003 as a licensed respiratory therapist. After receiving his certification from Louisiana State University in Alexandria, Blake worked at Rapides Regional Medical and later became its Director of Cardiopulmonary. In 2007, he took a teaching position at LSU-A as a Respiratory Therapist Clinical Instructor. In 2008, Blake graduated with honors from University of Phoenix in Phoenix, Arizona with a bachelors degree in Healthcare Administration. The next year, Blake was named Program Director at Pima Medical Institute in Mesa, Arizona. In 2015, Blake and his family returned to Texas where he was named Director of Operations and Business Development at Kindred Healthcare in Arlington. He was later promoted to Hospital Administrator.
While the path may seem unconventional, Blake said his roles as a caregiver, teacher, director and administrator have shaped his approach to leadership and provided him with a unique perspective.
"In my career, I have had the privilege of working as a clinician and operator in health care," he explained, "These hands-on experiences have given me a deeper understanding of outpatient services and how to better serve our patients needs."
Furthermore, Blake emphasized, he is not the kind of administrator who spends most of his time in an office. "When possible, I prefer to be on the floor, interacting with the staff and meeting them where they are. In fact, I've been exactly where they are."
When he is not in the office or on the floor at OSCD, Blake enjoys golfing, traveling, snow skiing and spending time at home in Arlington with his wife and 11-year-old daughter.
"I look forward to working with the OSCD team and our physician partners to support the quality care OSCD provides," he said.